Buitreraptor gonzalezorum (Makovicky, 2005)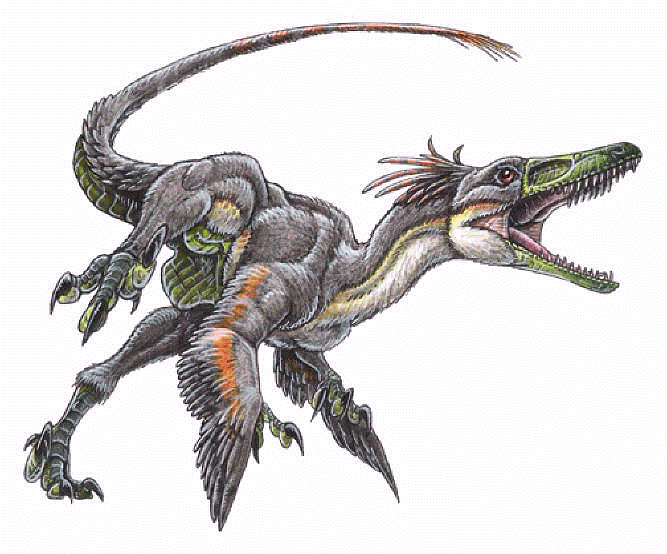 | | | | |
| --- | --- | --- | --- |
| Name Means: | Vulture Raptor | Length: | 2 ft. |
| Pronounced: | | Weight: | |
| When it lived: | 90 MYA | | |
| Where found: | Argentina | | |
Buitreraptor gonzalezorum was a rooster-size predatory dinosaur belonging to the dromaeosaurid family. It was found in Argentina and was described in 2005.Buitreraptor gonzalezorum is the only known species of the genus Buitreraptor. The genus name means "Vulture-raptor," from the Spanish word buitre meaning vulture.
Buitreraptor lived about 90 million years ago, when South America was an isolated continent like Australia today. Buitreraptor has some different physical features than typical northern dromaeosaurs, like Velociraptor. Buitreraptor has a slender snout with teeth that lack meat-tearing serrations. From this scientists conclude that this dinosaur was not a big-game hunter like most other dromaeosaurs, but a hunter of small animals such as lizards and mammals. Its long bird-like arms confirm such a life of grasping fast-moving small prey. It has long legs and must have been an agile runner. It most likely had feathers. This dromaeosaur occupied a niche like that of modern secretarybirds or even the dinosaur Troodon from North America.
Other than Buitreraptor, the only other known dromaeosaurs from the southern continents are Neuquenraptor and Unenlagia from South America (discovered earlier in 2005), Rahonavis (once thought to be a true avian bird) from Madagascar, and unidentified dromaeosaur-like teeth from Australia. The bones in both Buitreraptor and Rahonavis show either that powered flight evolved independently in two different groups of dinosaurs: birds and southern dromaeosaurs, or that flight evolved once in the ancestor of dromaeosaurs, and subsequently the two dromaeosaur lines (northern and southern) became secondarily flightless.
This discovery in the Southern Hemisphere confirms that dinosaurs were more widely dispersed around the world than previously thought. Scientists now think that dromaeosaurs date back to Jurassic times, when all the continents were much closer together. It is possible that they originated on the ancient continent Laurasia in the north, and migrated to southern Gondwana later.
The fossilized bones were found in 2005 in sandstone in Patagonia, Argentina - by an excavation lead by Peter Makovicky, curator of dinosaurs at the Field Museum in Chicago). Buitreraptor was discovered in the same fossil site that had earlier yielded Giganotosaurus, the biggest carnivorous dinosaur known to science since 1995.
-
The new discovery, named Buitreraptor, provides definitive evidence that dromaeosaurs also lived in South America - part of Gondwana. They must have originated when all of the continents were still assembled in a single landmass - during the Jurassic. When the landmass split in two, the dromaeosaurs diverged into northern and southern groups. Analysis by the authors of the Nature paper show Buitreraptor and Rahonavis, a fossil animal from Madagascar previously considered a primitive bird, form a southern branch of the dromaeosaur family tree. This branch is distinct from Laurasian dromaeosaurids, including Velociraptor and some of the famous feathered dinosaurs from China. Birds are commonly thought to have evolved from this group. The authors say the discovery Rahonavis and Buitreraptor have long and wing-like forelimbs could imply that flight evolved twice, once in birds and once among this group of Gondwanan dromaeosaurs. The specimen will be on show at the Chicago Field Museum's Evolving Planet exhibition that opens in March.
---
Edugraphics.Net | Feenixx Publishing |