Compsognathus longipes (Wagner, 1859).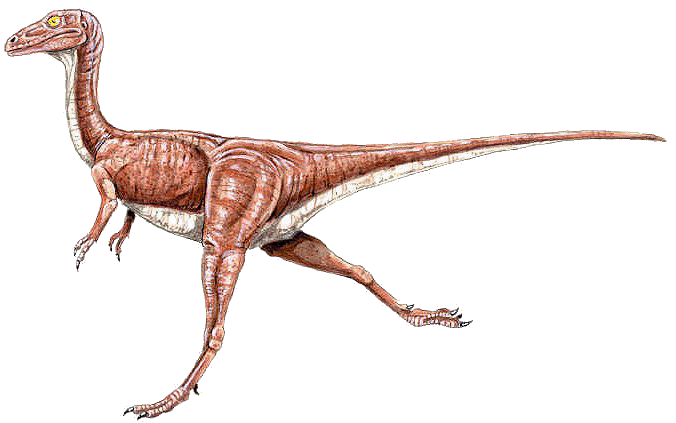 Compsognathus longipes - without feathers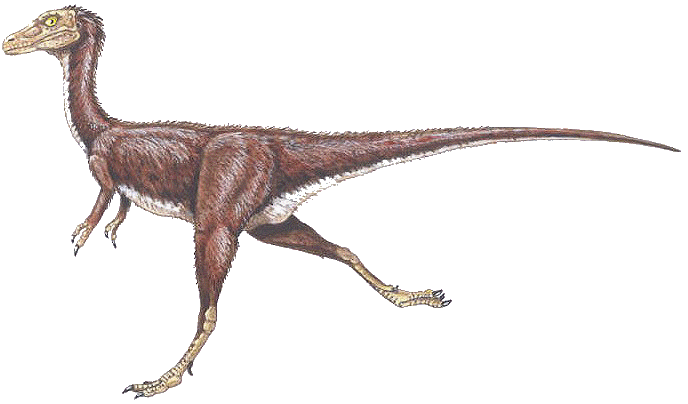 Compsognathus longipes - with feathers
| | | | |
| --- | --- | --- | --- |
| Name Means: | "Elegant Jaw" | Length: | 3 feet (1 m) |
| Pronounced: | Komp-so-Nath-us | Weight: | 6 pounds (3 kilos) |
| When it lived: | Late Jurassic 155 - 145 MYA | | |
| Where found: | Bavaria, Germany | | |
Compsognathus longipes was the first reasonably complete dinosaur skeleton ever found. It was discovered in the lithographic limestone of Solnhofen, Bavaria, by Dr. Oberndorfer in the late 1850's. It was described and named by Johann A. Wagner in 1859. The specimen was apparently a juvenile, but even the adult form is not very large. Interestingly the fossil skeleton of a small lizard,

Bavariasaurus, were

found in the location of Compsognathus' stomach. his fossil is now on display at the Pale ontological Museum in Oslo, Norway. A second specimen was found in France. Although the French specimen was originally described as a separate species, Compsognathus corallestris, both it and the German specimen are now thought to be Compsognathus longipes.
Archeopteryx, the early feathered reptile, which is now regarded as the first bird, was found at the same site as the original Compsognathus fossils at about the same time. Compsognathus, with its many bird-like features, would shortly led anatomists such as T. H. Huxley to propose a close affinity between birds and dinosaurs. The discovery that Archaeopteryx lived at about the same time at the same place would add considerable weight to the argument.
Compsognathus was once the smallest known dinosaur -- about the size of a chicken. It is hard to think of this little creature as a real dinosaur, yet he is as much a dinosaur as big Tyrannosaurs or giant Apatosaurus.Several other dinosaurs are now known to have been smaller. They are Microraptor, Parvicursor, and aenagnathasia
It only ran on its two back legs. A long tail acted as a counterbalance and for stability during fast turns. Its shape allows it to run fast and swiftly. This can help it to run from all the predators. Because of its size and the lightness of its bones, it is believed that Compsognathus was a very swift predator.Its top speed has been estimated at twenty -five miles per hour.
Compsognathus had a small, pointed head with small, sharp teeth, hollow bones, and a long, flexible neck. It really needed the sharp teeth because his head was about the size of your palm, so it needed sharp teeth to help it chew and eat. This little hunter probably ate bugs and the fossils preserved in its stomach suggests that it ate small lizards.
It had short arms with either two or three clawed fingers on each hand. There are only two known fossils, and no bones of a third finger have been found. Some paleontologists feel that, like the much larger Tyrannosaurus, the little Compy had only two fingers. However, the hands are disarticulated, which leads other paleontologists to suggest that it had a third finger. It just hasn't been found.
so this is still uncertain. It appears that the bones are not sufficiently preserved to make the determination. Others feel strongly that it had three.
It is often argued that Compsognathus lacked feathers, because none are preserved with either skeleton, while Archaeopteryx, which was found in the same sediments, always preserves feathers. However, the only feathers always preserved on Archaeopteryx are the large ones on the wings and tail. The short feathers which cover the body are rarely preserved. The discovery of , Sinosauropteryx, its only close has only has the short kinds of feathers, so it's possible Compsognathus was feathered too.
---
Edugraphics.Net | Feenixx Publishing |