Caudipteryx zoui (Ji, Currie, Norell & Ji. 1998)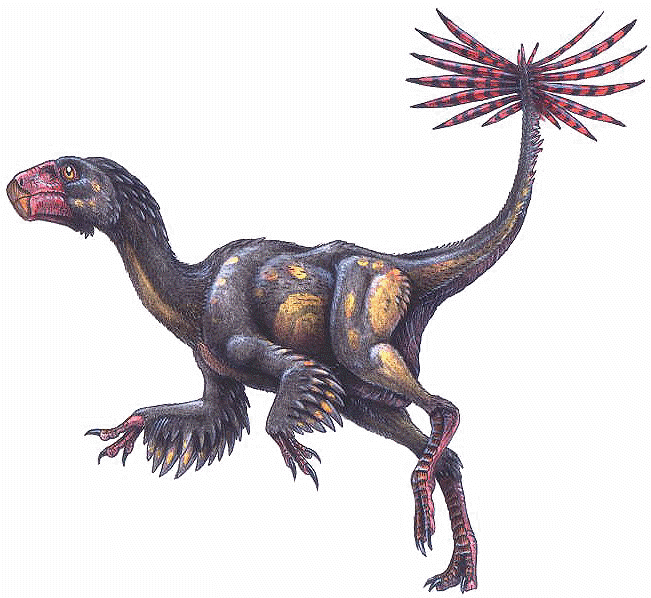 | | | | |
| --- | --- | --- | --- |
| Name Means: | "Zou's tail feathers" | Length: | 3 feet (1 m) |
| Pronounced: | cow-DIP-tuh-riks | Weight: | 15 pounds (6 - 7 kilos) |
| When it lived: | Early Cretaceous - 140 MYA | | |
| Where found: | Liaoning Province, China | | |
Caudipteryx is one of several types of feathered dinosaurs recently discovered in China during 1998. These new finds have caused one of the greatest controversies in modern paleontology. They have many of the characteristics that were expected in a "missing link" between dinosaurs and birds, but they lived millions of years after Archaeopteryx, the first known bird ancestor.
Caudipteryx was a turkey-sized dinosaur. It had short forelimbs, large eyes and long, sharp, spiked teeth. Quick and agile, it had long slender legs. The most prominent feature of Caudipteryx had to be its tail, which was covered with 6-inch-long tail feathers. The feather fossils show bands of dark and light that may have been color, giving us an idea of how Caudipteryx looked. It was unable to fly. Some of the evolutionary advantages feathers may have provided to a flightless animal may include the ability to control body heat, some protection from teeth and claws, camouflage and identification. Since Caudipteryx lived in a wetland area, it is easy to imagine it wading into shallow water on its long legs to spear small fish and amphibians with its long sharp teeth.
The has an osseous stem on the front arm lever, a characteristic found in modern birds. In the birds, the wings are fixed on similar stems, but it is not known if this character appeared before the invention of the wings and that it made it possible this new type of member to develop, nor if it were sufficient to allow the flight if necessary. Thus there is not yet enough information to know if Avimimus had wings and if they were functional.
It is nearly unique among classic theropods in that it is known to have had a gizzard full of stones to aid digestion. They were about an inch in size. This indicates Caudipteryx did not chew its food, probably swallowing small prey whole.
Since both sauropodomorphs and birds are known to have had such gizzards, it is probable other theropods had them too. Besides stomach stones, it had small conical teeth. Caudipteryx gets its name from its long tail feathers.
Did Archaeopteryx and Caudipteryx descend from a common ancestor? Or was Caudipteryx a dinosaur sharing a convergent evolution with birds. This will be a long and lively debate.
Paleontologist Philip Currie and assistant Kevin Aulenback of the Royal Tyrrell Museum of Paleontology were in Beijing examining three specimens identified as Protarchaeopteryx with Ji Qiang, director of China's National Geological Museum. Curried renamed it Caudipteryx "tail feather" - for the tall plumes that the creature likely fanned for display. Caudipteryx becomes the fourth "feathered" animal to be found near the tiny village of Sihetun in Liaoning Province. It joins Protarchaeopteryx and Confuciusornis—a creature with relatively short, clawed wings that was probably one of the first birds to fly well—and Sinosauropteryx, one of the most important dinosaur finds of the 20th century.
Currie stated, "For the first time we have something that is unquestionably a dinosaur with unquestionable feathers. So what we have is a missing link between meat-eating dinosaurs and the earliest bird. This shows that dinosaurs are not extinct, but are well-represented by 10,000 species of birds."
"The discoveries of those feathered creatures from the western part of Liaoning Province, northeast China, certainly support the hypothesis that birds were derived directly from small theropod dinosaurs," Ji said. "They make the relationship between dinosaurs and birds closer and closer, but they also make the definition and concept of birds more and more indistinct."
The existence of Protarchaeopteryx, Sinosauropteryx, and Caudipteryx lends credence to the theory the birds are descended from theropod dinosaurs and not from 4-legged arboreal (tree living) reptiles. There are, however, dissenting voices who point out that the new feathered fossils are from a time after that of Archaeopteryx, the first bird (which lived about 147 million years ago, before Caudipteryx and Protarchaeopteryx). This suggests that perhaps the fossils' resemblance to birds could be a case of convergent evolution and that their feathers evolved for insulation, not flight, indicating a warm-blooded physiology.
---
Edugraphics.Net | Feenixx Publishing |